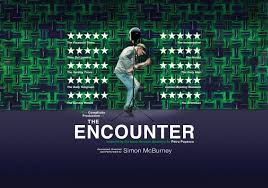 Every seat was filled as Simon McBurney took the stage Saturday night at the Wallis Annenberg Center for the Performing Arts' Bram Goldsmith Theater in Beverly Hills before his performance of "The Encounter."
McBurney admonished the few latecomers and had all the audience members check their headphones to see if they were working. Yes, certainly. There were voices to the left, voices to the right and voices directly behind – or were there?
The creative sound design and effects were all part of the magic of the two-hour show, fresh from its run on Broadway, a genre-blurring experience partially set in the Amazon jungle, with McBurney performing a number of characters including a photographer and members of the indigenous Mayoruna tribe.
Or wait, were those other off-stage voices? A quick check of the program indicated that there are 14 other people's voices credited, including one playing McBurney's young daughter, an inquisitive and seemingly adorable child who keeps him up at night.
Some of the ostensible topics of the performance include memory, friendship, the nature of time and the human instinct to tell stories. In addition to being a surreal geographical journey, it's also a philosophical adventure.
"The Encounter" is inspired by Petru Popescu's book "The Encounter: Amazon Beaming," an account of National Geographic photographer Loren McIntyre's experiences in the Brazilian rainforest during a photography mission.
"There is a very simple method of the show, which is about a man in his 50s who thinks he knows what he's doing and then becomes utterly lost," McBurney said in a Los Angeles Times interview with theater critic Charles McNulty. "That's a literal sense of disorientation. But it's also, of course, like any human story, a metaphor. And I guess that in my 50s, I'd better understand what T.S. Eliot meant when he said as we get older, the world becomes stranger."
McBurney is cofounder of the innovative British theater company Complicite, whose other works include "Shun-kin," "Strange Poetry" and "The Noise of Time."
("The Encounter" runs through April 16 at the Wallis. Tickets are $25-$100.)