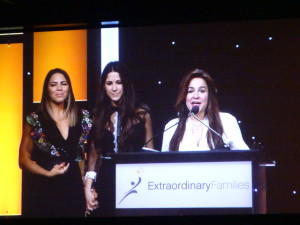 The warmth in the room was unmistakable as Extraordinary Families held its second annual awards gala at the Beverly Hilton's International Ballroom, hosted by Inside Edition's Victoria Recaño.
The Los Angeles-based nonprofit organization has a very special mission from which that warmth flows: supporting those who provide nurturing homes to young people in foster care.
Exemplifying the spirit of Extraordinary Families and the work it does were the evening's honorees: writer, producer and director Lee Daniels ("Precious," "Empire," "Star," "Lee Daniels' The Butler"), executive producers Jess Rosenthal and Dan Fogelman for "This Is Us, " the family of the late music manager and philanthropist Howard Kaufman and foster parents Kim Kopp and Lisa McFann.
NBC entertainment President Jennifer Salke presented the luminary award to Rosenthal for the network's hit multi-generational and multiracial family drama "This is Us" during the gala April 26.
"There's so much more bravery in TV these days. The show is provocative, insightful, emotional and influential – and it's our number one series," she said.
"We make a show that makes people cry," Rosenthal admitted in his acceptance speech. (Fogelman was unable to attend the event.) "It encapsulates our take on fostering and adoption. We invite experts like Sarah Boone (CEO of Extraordinary Families ) into our writers room. It's been such a blessed run, with so many wonderful moments, but we still have so much to learn and to handle with grace and sophistication. Tonight suggests we are on the right path."
Fox Television Group co-chairman and CEO Gary Newman did the honors in presenting the Visionary Award to Daniels in recognition of his contributions to shining a spotlight on foster youth and the realities of child welfare, which were graphically displayed in his acclaimed 2009 film "Precious," starring Gabourey Sidibe (who now appears on Fox's "Empire") in a role which earned her an Oscar nomination. The film received five other Academy Award nods.
"When I first met Lee and Danny Strong, they realized there were opportunities on TV to reach a large and underserved audience. I warned them the list of first-time creators is so small. 'Empire' features juicy storytelling but when you strip away the glossy layers there's the truth– like the kid in the garbage can. That was Lee, who was in foster care, and got on a safer and more secure path. There is no greater version of that than Lee – in film, TV and life," Newman said.
Daniels gave a heartfelt speech in which he admitted that success in Hollywood can make a person forget about uncomfortable beginnings, as can money. He's given back by adopting and fostering children with his partner.
One of the night's many other highlights– in addition to the musical entertainment provided by India Carney and Haley Reinhart– was a spoken word segment with former foster kids Alexiss Valle, Edana Jones and Steven Barbee. The three young adults each spoke movingly about their respective journeys through the foster care system and how they are now prepared for a better future. "We are strong. We are determined. We are resilient. Extraordinary Families is helping us build our futures," they said in unison at the end of their presentation, which received a standing ovation from the crowd of more than 400 guests.