Top acting veterans of the stage and screen gathered Saturday night, May 20 for the Center Theatre Group's 50th anniversary celebration at the Ahmanson Theatre in downtown Los Angeles for a special performance and festive soiree at nearby Grand Park. Jennifer Hudson, Matthew Broderick, Annette Bening, Sir Matthew Bourne, Tyne Daly, Alfred Molina, Edward James Olmos, Phylicia Rashad were among those who took the stage for crowd-pleasing musical numbers and well-known scenes from plays that premiered and were staged at Centre Theatre Group over the past five decades.
Jennifer Hudson took the headliner slot, closing the program at the Ahmanson with "I Know Where I've Been" from Hairspray.  Edward James Olmos and Alma Martinez shined during a moment from Zoot Suit, Matthew Broderick performed a scene from Brighton Beach Memoirs with Annette Bening and Tyne Daly and a group performance of "Seasons of Love" from Rent was also well-received. Following the 90-minute stage production directed by Robert Egan, about 800 attendees at the gala dined at Grand Park with beaming spotlights and light projections dazzling the downtown city buildings nearby.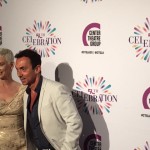 Dancing with the Stars judge and famed choreographer Bruno Tonioli expressed his devotion to live entertainment, "Working in the theater is like the foundation of a house," said Tonioli. "If you're any kind of performer, be it a dancer, a singer, an actor, only by working the stage do you get a real sense of how your performance gets received instantly by the public – if you stink, you die immediately. Theater is food for your brain and your soul, you experience things directly, it cannot be replaced and what they do here is just incredible."
The list is incredibly lengthy, but Center Theatre Group has been home to acting royalty with talents past and present gracing the stages including Anthony Hopkins in The Tempest (1979), Elizabeth Taylor in The Little Foxes (1981), Angela Lansbury in A Little Family Business (1982), Matthew Broderick in Brighton Beach Memoirs (1983) and Biloxi Blues (1984), John Malkovich and Joan Allen in Burn This (1987), Christine Lahti and Christopher Reeve in Summer and Smoke (1988), Laurence Fishburne in Two Trains Running (1992), Audra McDonald in The Master Class (1995), John Ritter and Henry Winkler in The Dinner Party (1999), Annette Bening, Alfred Molina and Sarah Paulson in The Cherry Orchard (2006), Phylicia Rashad in A Raisin in the Sun (2012) and Ma Rainey's Black Bottom (2016).
Tony Award-winning actor Matthew Broderick echoed heartfelt sentiments about the theater with a personal story. "My father made a living not on Broadway his whole life, in a way that I don't even know if that exists anymore," said Broderick. "There was much more regional theater. But I always think that's the most important thing, and tonight you can see all the great plays that began here, not in New York. Eight Neil Simon plays began here [at Center Theatre Group] and not in New York.
Center Theatre Group's 50th Anniversary Season continues with Jersey Boys starring Mark Ballas through June 24, Archduke running from April 25 – June 4 and King of the Yees running July 9 – August 6.