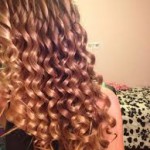 Just because summer is drawing to a close doesn't mean your hair has to say goodbye to beautiful beach waves.
HerStyler has just released an ingenious new heated hair tool product that makes the just off the beach look easy and convenient.
The spiral gadget contains two different sizes of barrels that create looser and tighter curls at the same time. The barrels measure 32 mm and 19 mm for the different sizes.
But the spiraling design allows you to take one section of hair and have it come in contact with either of the two barrels as you wrap it around the iron.
The new Beach Curler, which offers advanced ceramic coating, quickly heats up for maximum curling effect in about 90 seconds.
As you work with each section of hair, it comes in contact with either of the barrels depending on where the hair falls on the iron.
The results are beautiful, mismatched beach waves that look totally natural and carefree– a great look in any season.