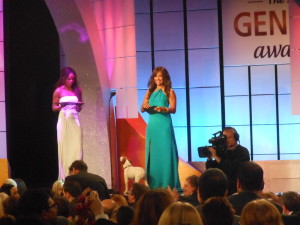 Just as he did in the Academy Award-winning "The Artist," canine star Uggie nearly stole the show at the 26th Genesis Awards, presented by the Humane Society of the United States. The 22 winners were announced Saturday, March 24, at a ceremony at The Beverly Hilton.
The Genesis Awards honor the news and entertainment media's work in raising public awareness of animal issues and confronting cruelty. The majority of the categories recognize television work, including local and national news, newsmagazines, talk shows, reality series and documentaries.
The scene-stealing terrier came out on stage as host Carrie Ann Inaba of "Dancing with the Stars" opened the program in the packed International Ballroom, after guests were served, naturally, a vegan dinner.
Then they rolled the first tape — black and white and silent, of course — featuring Inaba and Uggie in a charming vignette about his life, going from rags to riches, from the shelter to being rescued and then coached by a great trainer. Thus, a four-legged star was born, and a message was imparted: Don't buy pets, adopt them.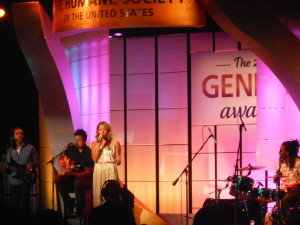 Platinum record selling and multi-Grammy Award winner Colbie Caillat, known for her decidication to animal protection, performed at the event. She's worked extensively on HSUS's Puppy Mill Action campaign.
"The Colbert Report's" satire on animal rights issues hit the right comedic note to win the prestigious Sid Caesar Comedy Award for the second year in a row, with bits such as wagging a satirical finger at whale preservation by suggesting that whales are the real persecutors of humans. In an acceptance speech taped at his anchor desk in New York, the show's host Stephen Colbert made a series of animal noises that could be possibly translated as expressions of gratitude in their respective dialects.
"The Vampire Diaries" star Ian Somerhalder was honored with the Wyler Award for his work on a multitude of animal welfare and environment issues. He's addressed Congress and made appearances to bring further awareness to critical issues.
As the awards unfolded — presented by, among others, Cloris Leachman, Jason Ritter, Moby, Rose McGowan, Wendie Malick, Wilmer Valderrama, Michael Vartan and Sophia Bush — and clips from the honorees were played, the scope of the issues that concern the Humane Society and its members became apparent. They range from poaching endangered species to shark finning to egg farm cruelty, wild horse roundups, cruelty of the Asian reptile skin trade, cockfighting, torture at cattle ranches and abuses that can be involved in online puppy sales.
There were also uplifting stories, including several about pairing abandoned pets with homeless people and giving them new homes.
In the feature film category, "Rise of the Planet of the Apes" triumphed over its animal-themed rivals "Dolphin Tale," "Rio" and "War Horse."
"The Ellen DeGeneres Show" picked up Outstanding Talk Show for an interview with HSUS President and CEO Wayne Pacelle about dogfighting and puppy mills.
In the field of documentaries and reality series, the Morgan Freeman-narrated IMAX documentary "Born to Be Wild 3D" took the Feature Documentary prize for its celebration of people who rehabilitate baby elephants and orangutans orphaned by poaching and habitat encroachment.
"Gordon Ramsay: Shark Bait" received best TV Documentary for its fearless expose of shark-finning and the well-known chef's quest to have shark fin soup banned from restaurant menus. The California lawmaker who led the fight to ban it in the Golden State was given a standing ovation when Ramsay gave him a shout-out.
"Animal Planet Investigates: Captive Hunting Exposed" received the Outstanding Reality Series award for pulling back the curtain on "captive hunting" — shooting tame animals that are trapped in fenced pens.
In the world of broadcast news, ABC's "20/20" was honored in the TV Newsmagazine category for exposing inhumane conditions at an egg factory farm. NBC's "Nightly News" was recognized with the Outstanding National News award for multiple issues, including the fate of horses used by smugglers to cross the U.S.-Mexico border.
Anchor Brian Williams, appearing on tape from New York, said he always liked to err on the side of the animal kingdom. He went on to poke fun at his well-known love for dogs, but not so much for cats. "I would refute that, but the last cat story aired on 'Nightly' in 1996," he said with a smirk.
It was another win for the Peacock Network as the Morning News Show award went to NBC's Jill Rappaport of "Today" for a series of reports on the dedicated rescuers of homeless pets.
"We paid tribute to an amazing array of works that address animal protection concerns, but the real winners of the Genesis Awards are the animals themselves, who rely on these invaluable voices to speak for them," says Beverly Kaskey, senior director of The HSUS's Hollywood Outreach program and executive producer of the annual awards.
The awards show will premiere as a one-hour special on Animal Planet on May 5.
For a complete list of winners, go to www.humanesociety.org/genesis.