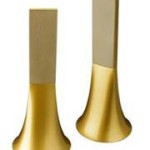 Hi-tech audiophiles will be falling in love with a futuristic new product from Parrot, and clamoring for a set for their living room—or any room.
Parrot, the leader in high-end wireless devices, is releasing a limited edition series of their Zikmu Parrot by Philippe Starck wireless speakers just in time for the holiday shopping season, in the striking metallic colors Ancient Gold and Electric Blue. (They've previously been available in black, white and red.)
The Zikmu speakers, fashioned in an ultra-modern sculpted shape, combine sophisticated wireless technology with the sleek artistry of renowned designer Starck, known worldwide for his architecture and product design. The design of the speakers reflects the inventiveness of his artistry and he says, his personality.
Here's how they work. The wireless speakers feature a dedicated iPod® / iPhone™ docking station and Wi-Fi and Bluetooth® technologies. The two speakers communicate wirelessly with each other, allowing them to be positioned anywhere in any room. They deliver intense, 360 degree sound with spectacular clarity.
That means you can simply pop your mobile device into the docking station in one of the columns and spectacularly amplify all your favorite music, from Lady A to Led Z. You control the speakers from anywhere in the room using the intelligent remote control. At the same time, your device is charging up.
Along with music to the ears, you've got some gorgeous conversation pieces.
Available exclusively at Ron Robinson for Fred Segal, 8118 Melrose Avenue, Los Angeles, (323) 651-1800 www.ronrobinson.com  $3,400 for the pair