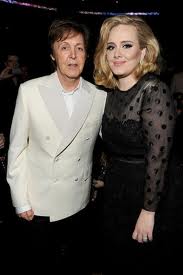 Monday morning quarterbacking had cognescenti and fans alike debating whether the Grammys,  the "family" that host LL Cool J referred to before a prayer for "our sister Whitney" had done enough to honor Houston's legacy, even as her catalog albums and hit singles reached renewed best-seller status on Amazon and iTunes, and Sony Music capitalized by raising the price. 
As the 54th Annual Grammy Awards progressed, various artists including Rihanna and Alicia Keys gave recognition to Whitney, before Jennifer Hudson sang a heartrending version ofHouston's top smash hit, "I Will Always Love You."
That it came midway through the three and a half hour program, culminating the "in memoriam" segment that honored other recently departed industry stalwarts like Amy Winehouse and Don Cornelius, disappointed some. To others, it seemed dignified and appropriate.
The resonance of Houston's death and the official crowning of Adele as music's favorite songstress with six trophies for the landmark "21" made this Grammy telecast the second watched in history, after the 1984 edition in which Michael Jackson was coronated for his epic "Thriller."  
Although the 23-year-old Brit, who performed for the first time since having vocal cord surgery in the fall, didn't mention Houston by name, she might do well to remember the lessons of the pop star's life and stay away from further "rubbish relationships"– even as they inspire best-selling songs.
Katy Perry wasted no time mining her divorce from Russell Brand in a scathing new song she performed with lyrics that included "Your love was cheap" and its laser-clear message "There's part of me you'll never gonna ever take away from me."
The performances, more than the trophies themselves are what makes the Grammys such a compelling watch. This year seemed to have more showstoppers and conversation-starters than any in recent memory, perhaps even going back to Eminem joining with Elton John a decade ago.
Take Chris Brown, jumping around like an acrobat while lip-synching, and given not one, but two chances to redeem himself after the disgrace of battering Rihanna three years ago—a move many thought entirely inappropriate, especially in light of Houston's abuse at the hands of former husband Bobby Brown. Clearly, producers couldn't renege, but it still begs the question: why Brown and not another worthy nominee like Rihanna?
Oh, that's right, she technically did perform two songs, one solo and one with an ultra-boring and off key Chris Martin and Coldplay.
Several other genre and generation-mashing combos hit the right notes, some more successfully than others, like Maroon 5 and Foster the People doing a medley of Beach Boys tunes until the original group joined them on stage. A bit hard to believe it has been 50 years since they brought their seminal California surf, sun and sand sound to the world, or that Brian Wilson agreed to the performance, but exciting nonetheless to see and hear the band.
Collective breaths were held as Glen Campbell appeared and sang lead on his iconic "Rhinestone Cowboy" with the likes of Blake Shelton and The Band Perry prefacing his entrance and joining in. It was only when you heard him say "Where do I go now?" after the tune ended that the reality of his Alzheimer's hit.
And then there was the Nicki Minaj exorcism fiasco. We'd say more, except we tuned out after two seconds and used the opportunity to check out what was happening on "Downton Abbey," which also seems to have jumped the shark, albeit in a much more buttoned up manner.
Other favorite moments: Dave Grohl praising music not made by computers, talking about how the Foo Fighter's Grammy-winning record was recorded in his garage, and Best New Artist, Bon Iver frontman/songwriter Justin Vernon thanking all the people who would never be up there accepting a Grammy.
But it was living legend Paul McCartney who stole our hearts, not only with his new single "My Valentine," but the boffo show ending with the electric guitars of Grohl, Bruce Springsteen and Joe Walsh jamming to a medley from the Beatles iconic1969 "Abbey Road."
And then to see that McCartney and new wife Nancy Shevell made a stop at the people's tribute to Whitney Houston outside the Beverly Hilton, and deflected any comments about him to her truly endeared the Beatle to us on this Valentine's Day.