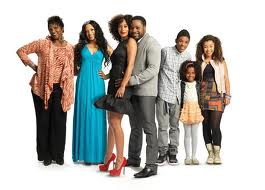 You could call it "The Cosby Show" for this generation. It's BET's new original comedy, "Reed Between the Lines" premiering tonight at 10/9 Central on the cable network.
Starring Malcolm-Jamaal Warner and Tracee Ellis Ross as Mr. and Mrs. Reed, parents of three adorable children, the half hour scripted series aims to capture the complexity and humor of navigating traditional African American family values with contemporary ideals of honest, open communication between parents and their children.
Alex and Carla Reed are a power couple–he a professor, she a psychologist, trying to keep their love and sex life alive as they juggle careers, coworkers and kids, making for some funny interactions on the road to having it all.
The network, which has been on huge ratings roll, is pulling out all the stops to make this a success, starting with a screening and glitzy premiere party recently featuring all the cast members at Soho House Los Angeles, and then another event in New York.
Smack in the middle of the Cosby connection is Warner, who rose to national prominence on the celebrated, classic comedy series starring Bill Cosby as Cliff Huxtable. His character on the new show, Alex Reed, is an NYU professor and stay at home dad. Hmmm. Huxtable was a graduate of NYU.
"It's not completely by accident that there are comparisons," says Warner. "That was definitely the mold we were going for. When you look at the history of Black sitcoms throughout the course of television I think, for the most part, they kind of all fit around the same category."  
Warner says because he spent eight years of his life under Cosby on the show, he's excited to take that wisdom and experience and bring it to the fictional Reed household, which features its own set of adorable kids, played by Nadji Anthony Jeter and Zoe Soul as twins and Zoe Hendrix, who plays the youngest member of the household.
BETis hoping viewers will also spend a lot of time in the company of TV's newest comedy clan.