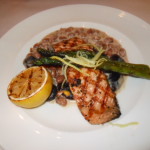 Westwood Village is undergoing a resurgence and Palomino restaurant is a great place to get a taste of it.
The spacious art-filled restaurant and bar has been around for awhile (actually, since Westwood was in its heyday 20 years ago) in a great corner location just off Wilshire Blvd., but it's always energizing to walk through the doors and get a perch by a window, either in the bar or dining area.
The bar is known for its all day and all night happy hour, a congenial place for drinks and appetizers that is a favorite of people who work in the nearby offices. It is roomy, yet vibrant and very welcoming. Menu selections include a slate of wood-fired pizzas, dips and salads.
If you're coming for lunch or dinner, the first thing that you'll notice is the warm greeting by the hosts as you're escorted to your table. And then it's time to peruse the menu of items created by chef Verite Mazzola for your dining pleasure, along with the wine list, which conveniently features some half bottles like Clos Duval Cabernet Sauvignon, alongside its otherwise wide-ranging selection.
We love the calamari and the crab cakes as starters, or the famous and addicting Dungeness crab artichoke dip. The brick oven flatbreads are always a sure bet. And for the mains, there's always a beautiful selection of fresh grilled fish, prawns, rotisserie pork and steaks with interesting accompaniments like crispy rosemary potatoes and pancetta green beans.
One night, the special was heavenly lobster risotto–and there is always a full selection of pastas like cappellini pomodoro and four cheese penne. For chicken lovers, there are varied preparations like chicken parmesan and chicken marsala.
If you have room for dessert, the warm chocolate cake is a perfect topper to a great meal, as is the limoncello sorbet. 
Palomino, 10877 Wilshire Blvd., Los Angeles (310) 208-1960 , www.palomino.com