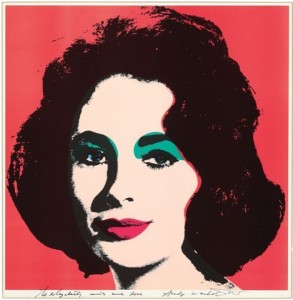 Diamonds. Sapphires. Rubies. Emeralds. Pearls. Designer clothing. Rare artwork. Dame Elizabeth Taylor had them all during her lifetime, and now her estate is auctioning off her staggering array of worldly possessions after a traveling roadshow of the glitziest pieces in the collection.
There was no more fitting place than Los Angeles – where Taylor lived for most of her adult life – to start off the U.S. leg of the tour, which also includes stops in London, Moscow, Geneva, Paris and Hong Kong before the complete collection is offered for sale at Christie's New York from December 13-16.
The four-day viewing at the MOCA location at the Pacific Design Center sold out quickly at $20 a pop, so an extension was just added. Tickets for the additional viewing times will set you back $50 each and will go on sale Tuesday morning, October 11 at www.christies.com/elizabethtaylor — and nowhere else. You will not be able to get them at the door during the run, which begins Thursday, October 13 at noon and runs through Sunday, October 16. The additional hours take the show until midnight on Friday and Saturday.
No word on whether that hefty admission fee includes wine and cheese–but it should. Because although the items are each magnificent in their own right, there are only roughly about 70 things on display. Much of it is suites (earrings, necklaces, rings, bracelets) of magnificent jewelry displayed in cases, from the world's top jewelers, including Cartier, Van Cleef & Arpels, Bvlgari and Tiffany and given to her by husbands Mike Todd and Richard Burton, whose taste in gems was legendary.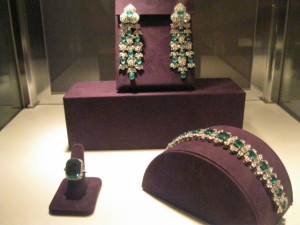 Some of the standouts: a 32-carat diamond ring given to her by Burton, with an estimated sale price of $2.5-3.5 million, a Bvlgari sapphire and diamond necklace, estimated to go for between $600,00-$800,000, the Mike Todd antique diamond tiara he gave her that she wore to the Academy Awards when he won for "Around the World in 80 Days," the Taj Mahal diamond pendant necklace, valued at between $300,000-$500,000, a custom-made multicolored sequined Versace jacket with an image of England's Queen Elizabeth on the back, and her bound copy of the script for the film that brought her stardom as a young girl, "National Velvet."
In keeping withTaylor's devotion to humanitarian causes, a portion of the profits generated by admissions and catalog sales will be donated to the Elizabeth Taylor AIDS foundation, founded in 1991 to assist those living with HIV and AIDS.