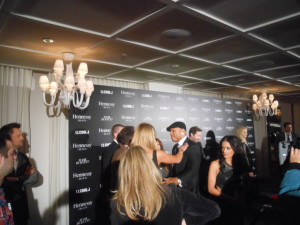 It was the eve of the 55th annual Grammy Awards and host LL Cool J was all smiles as he arrived at a gala dinner thrown in his honor at the SLS Hotel, hosted by Hennessy.
Co-host Mark Burnett greeted guests at the cocktail reception, which featured hors d'oeuvres by acclaimed chef José Andrés from the kitchen at The Bazaar restaurant inside the hotel, appetizers which included favorites like caviar cones filled with cauliflower crème fraiche.
Attendees were greeted with signature Hennessy cocktails– and personalized flasks –as well as a palate-cleansing sorbet made from the cognac, which packed quite a delicious wallop in its own right.
Among those mixing and mingling were Mark Cuban, Neil Patrick Harris, Michael Bolton, Nancy O'Dell, Gene Simmons, Gary Busey and Jeff Probst.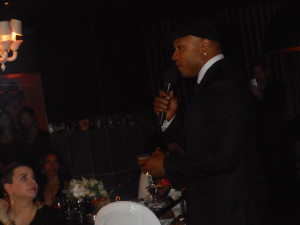 Guests were seated at beautifully set tables as they settled in for a spectacular 14-course culinary extravaganza befitting of the occasion, which officially kicked off after LL grabbed a mic and toasted to the evening and to the Grammy Awards.
On the menu: King crab and mussels served in cans, a deconstructed Caesar salad, ceviche and avocado roll, sautéed shrimp, seared chicken and veal loin, Catalan spinach and mushroom risotto.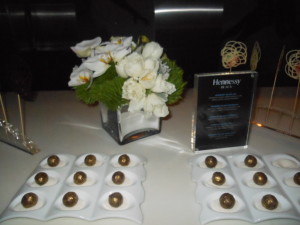 If that wasn't enough – and it certainly exceeded any definition of enough– there were beautiful dessert trays filled with chocolates, candies and pastries, some of them made with Hennessy.
A dinner like this one is not intended for anyone in a hurry. Obviously in a party mood, LL stayed late into the evening, even as a few of the more energetic guests hit the dance floor.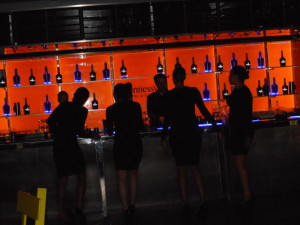 It was the perfectly appropriate way to end an affair celebrating music's biggest night and its second-time host, who went on to do a bang-up job on stage at Staples Center, culminating in the performance of his new single, "Whaddup."
–Hillary Atkin