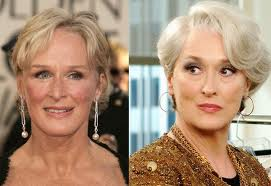 For the first time in nearly 25 years, the Academy Awards will feature a leading lady smackdown between Meryl Streep and Glenn Close. The last time the two blonde, East Coast born and well-bred actresses went head to head was in 1989, with Streep for the baby-killing drama "A Cry in the Dark" and Close for her delicious role in "Dangerous Liaisons."
Neither won. That honor went to Jodie Foster for playing the victim of a gang rape in "The Accused."
A similar Oscar play-off occured just the year before, in 1988. Both Close and Streep were nominated, for "Fatal Attraction" and "Ironweed," respectively, but the Oscar went to…drumroll, please: Cher, for "Moonstruck."
Cut to now. Aside from the staggering 17 Oscar nominations and two Oscars Streep has stacked up compared to Close's six nods and zero statues, it's easy to confuse these two titans of the silver screen. Here's how they're different, and alike:
Both are leading edge baby boomers. Close was born in 1947 in Greenwich, Conn. Streep made her debut as a Garden State girl two years later, born in theNew Jersey town of Summit. She attended college in the hallowed Ivy League halls of Vassar and Yale, while Close matriculated at the College  of William and Mary. Harvard has honored both women with its coveted Hasty Pudding Woman of the Year title, Streep in 1980 and Close in 1990.
Oscar touched each very early in their careers. Right out of the gate, Close nabbed a supporting actress nomination for her very first film, "The World According to Garp," (1982), in which she played Robin Williams' mother. Streep had her first brush with Oscar in 1978 for her second film, best picture winner "The Deer Hunter" with Robert DeNiro, for which she was recognized with a supporting actress nod.
For Close, getting an Oscar nod (for "Albert Nobbs," a passion project of hers in which she plays a woman disguised as a man) is an experience that hasn't happened to her for decades. All five of her previous nominations were during the 1980s when she racked them up for movies including her classic turn in "Fatal Attraction" (1987) as the crazed other woman in Michael Douglas's marriage and for her standout roles in "The Big Chill" (1983) and "The Natural" (1984).
Streep has never lost her status as an Oscar voter favorite over the decades. Her 17 nominations are a record, giving even more weight to her unofficial but often used title of "the greatest actress of our generation."
She's also known for her chameleon-like ability to adopt varied hairstyles– from the pre-Raphaelite red curls of "The French Lieutenant's Woman" to Karen Silkwood's brown 1980s shag to the sleek gray bob of the formidable fashion editor Miranda Priestly in "The Devil Wears Prada" to the political helmet hair of the so-called Iron Lady, Prime Minister Margaret Thatcher— along with her repertoire of foreign accents.
Close's wild mop of blonde 1980s curls in "Fatal Attraction" could've merited its own nomination for Best Hair. And recognition for her acting certainly hasn't been off the map for decades, as the Oscar track record might indicate. She's won a Golden Globe and two recent Emmy Awards for her role as the tough as nails attorney Patty Hewes on FX's "Damages" and garnered a slew of other nominations from the Television Academy for shows including "The Shield" and "Will & Grace." In addition to a Globe for the 2003 TV movie, "The Lion in Winter," Close has also scored three Tony Awards for her work on Broadway.
Close and Streep have intersected on screen just once, in 1993's "The House of the Spirits." They both appeared in 2007's "Evening," but did not share any scenes.
They will next cross paths on the Oscar red carpet, but whether either will step up to the stage to claim the grand prize is dependent on how many voters decided to award it to another favorite, Viola Davis.