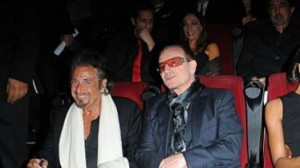 Think about the most admired and iconic Italian-Americans in show business. There are many, many, many– but Al Pacino's name is always at the top of the list. Decades after he first made an indelible impression in films like "Dog Day Afternoon" and "The Godfather," Pacino still seems to incite a frenzy of adoration everywhere he goes.
Perhaps that's why the organizers kept it secret that the legendary actor would take part in the gala opening ceremony of the 9th Annual Los Angeles Italia Film, Fashion and Art Fest that kicked off Sunday night at the historic TCL Chinese Theatres in Hollywood.
The timing couldn't be better with many of evening's honorees already in town for the upcoming Academy Awards: Bono and U2 for their original song "Ordinary Love," "American Hustle" director David O Russell, Steve Coogan and composer Alexandre Desplat for "Philomena" and Tata Vega, one of the great backup singers spotlighted in the documentary "20 Feet from Stardom."
With honorary chair Joe Mantegna and festival founder and producer Pascal Vicedomini looking on, Pacino feted Bono and told the audience how they met in Rome and bonded over their respective love for Oscar Wilde, which resulted in a collaboration for the 2011 film "Wild Salome."
The love and admiration between the two men was palpable from the stage of the theater where the presentations were made. Bono used much of his acceptance speech to laud actress Naomie Harris, who accompanied him. She had memorably played Winnie Mandela in "Mandela: Long Road to Freedom." Bono said he used Nelson Mandela's actual love letters to Winnie as an inspiration for the lyrics of "Ordinary Love." He capped off an emotional speech by pulling out a letter from his pocket of the great South African leader's actual words of love to his then-wife —after first removing a sheet with a song that someone had pitched to him on the red carpet. Only in Hollywood.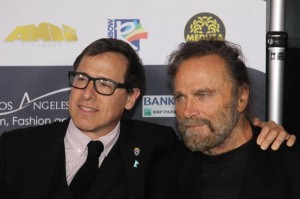 Another great Italian-American, David O. Russell, was presented with the 2014 LA Italia Excellence Award as Filmmaker of the Year, although his incredible filmmaking streak goes back to "The Fighter" and last year's "Silver Linings Playbook," which have garnered huge amounts of acclaim for him as a writer and director, along with the actors who have brought to life characters he created, many of them based upon his family experiences.
But it wasn't just about the American side of the Italian equation. The festival showcases the best of Italian culture and among its weeklong series of screenings are Paolo Sorrentino's "The Great Beauty," Italy's Oscar-nominated entry as Best Foreign Language Film, which also won the Golden Globe and BAFTA Award.
Another highlight is a special exhibit of the stunning costumes created by Daniela Ciancio for "The Great Beauty."
As in the past, a contingent of Italian filmmakers and performing artists make the trip to Los Angeles to participate in the festival. This year's delegation includes directors Paolo Genovese, Francesco Patierno, Marco Simon Puccioni, Enzo D'Alò and Enrico Maria Artale; producers Marco Belardi, Andrea Iervolino and Marco Dell'Utri; and young prodigy Gianluca Minucci, along with actor Lorenzo Richelmy ("The Third Half"), actress Anita Kravos ("The Great Beauty") and documentarian Marco Spagnoli.
Check out the entire schedule and more info at http://www.losangelesitalia.com.
–Hillary Atkin